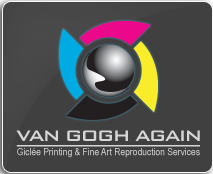 303-926-0243
Digital Imaging & Color Correction
Van Gogh Again Editions is a digital imaging company based in Broomfield, Colorado. Van Gogh Again provides color correction, image clean up, and other digital imaging services to artists, galleries, and businesses. With one of the world's largest flatbed scanners, Van Gogh Again can scan, color correct, and format almost any image for print, web, or whatever.
Need Printing Services?
Van Gogh Again is a large format Giclée printer. Contact Van Gogh Again today!