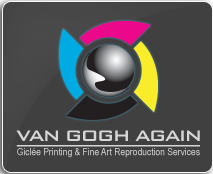 303-926-0243
Boulder Giclée
Van Gogh Again is a Giclée printer providing Boulder artists, galleries, and businesses with a variety of fine art reproduction services. Located in Broomfield, Colorado, VGAE is just down the road from Boulder.
Fine Art Printing or Art Printing for Boulder Artists
There are a variety of printing methods and formats for fine art reproduction printing. When it comes to quality and cost, Giclée printing is an artist's best choice. Van Gogh Again provides Boulder artists with the highest quality Giclée printing on both canvas and paper.
Artists choose Giclée printing over other art printing or fine art reproduction methods not only because of quality and cost, but because artists can order a single print runs instead of the entire edition.
Giclée Printing for Boulder Businesses
Not An Artist or Gallery?
That's ok, Van Gogh Again's printing and imaging servcies apply to non-art related industries as well. Contact us today for more infromation on how we can help your Boulder business.
Read More About Giclée Printing
More Fine Art Reproduction Services